Spaceships Campervan Hire in New Zealand
Spaceships offer compact campervan hire in both Auckland and Christchurch.
Spaceship vehicles are perfect for those looking for a easy drive campervan, they drive just like a normal car and are perfect for New Zealand roads.
You can learn more about the Spaceships fleet in New Zealand by selecting from the vehicles listed below.
Spaceships Campervan Hire Fleet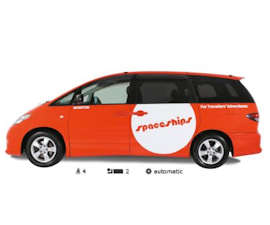 1 Double bed (up to 2.37m long)
two burner gas stove
CD/Radio + AUX Cable
1 Double bed (2.2m long)
two burner gas stove
CD/Radio + Bluetooth
1 Double bed (up to 2.37m long)
two burner gas stove
CD/Radio + AUX Cable